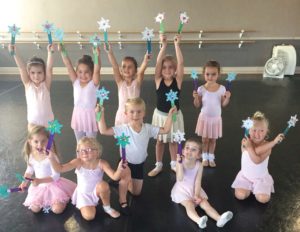 Tutus, Tiaras & A Prince Or Two
An introduction to the magical world of ballet for 3-5 year old girls and boys. The students' day will include an age-appropriate ballet class, use of pantomime on stage, a story hour featuring the stories of famous ballets, snack time and a rehearsal to prepare for the demonstration at week's end.
Monday – Friday  10:30am-12:00pm
Instructor: Miss Sandra
Cost: $100 for the week
https://www.hisawyer.com/portal/schedules/sessions
Summer Classes
July 17 – August 11, 2023
Beginning Ballet
An introduction to the basics of ballet for boys and girls who have had
no former ballet training.
Tuesday & Thursday  4:30-5:30pm
Instructor: Sandra Mangusing
Cost $80 for 4 weeks
Ballet Levels 1 & 2
Monday and Wednesday 4:00-5:30 pm
Instructor: Sandra Mangusing
Cost $120 for 4 weeks

Ballet 3
Mon, Tues and Wed. 5:30 – 7:00 pm
Instructor: Sandra Mangusing
Cost $150 for 4 weeks
Intermediate/ Advanced Ballet 
Mon, Tues, Wed. 5:30-7:00pm
Instructor: Samantha Young
Cost $180 for 4 weeks
Beginning Modern
Modern for boys and girls ages 8-11
Thursdays 4:30-5:30pm
$60 for 4 weeks
Int/Adv Modern
Thursdays 5:30-7:00 pm
$60 for 4 weekst
Levels are based on CRYB levels. If you are from another studio
you may contact us for level recommendation.
Intermediate & Advanced Workshop
August 14 – August 18, 2023
The Workshop will emphasize ballet technique with supplemental classes including pointe, modern (Graham), character and mens class.
Open to students Intermediate & Advanced ballet dancers. Girls must be on pointe.
M-F 10:30am-4:30pm
Cost: $375 for the week ($325 for CRYB students)
$100 Deposit due by March 15
Boys
White or Black Fitted T-Shirt
Black Bike Shorts/Tights
Dance Belt
Black Ballet Slippers With Elastic
Girls
Black Camisole or Tank Leotard
Pink Convertible Tights
Pink Ballet Slippers
Pointe Shoes
Character Shoes
Black Wrap Skirt